Another attorney tries to use the legal system as a hammer to silence critics - bad press - the TRUTH BEING TOLD. The great equalizer is Section 230 of the CDA - Anti-SLAPP statutes and of course the First Amendment. Thank goodness the US legislature had the good sense to protect the Internet from scheming lawyers on the frontend.
RipOffReport.com Wins Again in Federal Appellant Court, Prevailing with Anti-SLAPP Defense Against California Attorney Lenore Albert
Court of Appeal Largely Decides Against Lawyer In Three of Four Appeals, on Same Day
Lenore Albert, Candidate for Orange County D.A., Is Rebuffed, for Most Part, in Protests to Granting of Anti-SLAPP Motions Against Her; Gains Partial Reversal of Denial of Motion to Strike Cross Complaint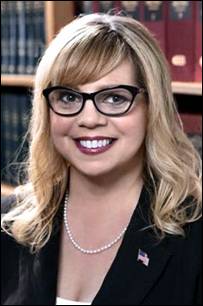 LENORE ALBERT
Attorney
Huntington Beach attorney Lenore Albert, a controversial figure who is fighting State Bar discipline and is a candidate for Orange County district attorney, has lost, in the main, three appeals in the Fourth District Court of Appeal, while for the most part winning one, all in the same day.
The opinions were authored by Acting Presiding Justice William W. Bedsworth of Div. Three. They were filed Tuesday and not certified for publication.
The reason for there being three opinions relating to anti-SLAPP motions in a single Orange Superior Court case, the jurist explained, "is that the various anti-SLAPP motions of the several defendants did not all come in at the same time." The case is before Orange Superior Court Judge Geoffrey T. Glass.
Bedford noted that the appeals stem from "an omnibus complaint…filed by lawyer Lenore Albert against multiple defendants she alleges defamed her." There were 725 defendants.
A fourth opinion in an appeal by Albert related to a different case, but also involved an anti-SLAPP motion.
• In Albert v. Ragland, G052204, the appeals court affirmed an anti-SLAPP motion granted by Glass to Xcentric Ventures which runs the "Ripoff Report" website, a repository of consumer complaints. One review of Albert, who represents clients faced with foreclosures, begins:
"Lenore Albert is an evil and corrupt attorney with only one plan, to cause the most damage to her clients while taking them for as much money that she can. She promises you the world, meanwhile she works with the defendants, so you end up with no home, and no recourse by the time she is through with you and your case. Then she sends you packing and doesn't give a hoot if you gave her your last dime."
The pleading in issue, Albert's first amended complaint, was based on the alleged falsity of allegations posted by third parties on the defendant's website—which, Bedsworth noted, "is immune, under section 230 of the federal Telecommunications Act of 1996."
In so proclaiming, Bedsworth jumped at the outset to the second prong of the anti-SLAPP statute: whether the plaintiff can show a probability of prevailing on the merits. He later indicated, however, in connection with other defendants, that the first prong—public discussion on an issue of public interest—was met by website postings relating to Albert.
'Akin to Extortion'
It was only after the anti-SLAPP motion was filed that Albert alleged that Xcentric operates an arbitration service—provided for a fee—which offers to those denigrated on its website the prospect of negative reviews being removed. This, Albert argued, was "akin to extortion."
Bedsworth wrote:
"On this point, however, Albert made the fundamental mistake of waiting until after an anti-SLAPP motion was filed before presenting her extortion theory about Xcentric. When Xcentric filed its anti-SLAPP motion in this case, the operative complaint was Albert's first amended complaint filed in September 2014. That complaint only alleges causes of action against Xcentric for defamation, interference with economic advantage, and intentional infliction of emotional distress. None of those causes of action are based on the theory that Albert is the victim of Xcentric's 'akin to extortion' business model….
"Perhaps, for sake of argument, Albert might have indeed been able to allege causes of action for unfair competition or even extortion against Xcentric based on allegations of its putatively extortionate business model. There is some authority to that effect….But when Xcentric's anti-SLAPP motion was filed, Albert's ability to amend to add new claims ended….
"Since the only causes of action she alleged against Xcentric were necessarily predicated on content posted to Xcentric's site by third parties, the trial judge was correct in granting Xcentric's anti- SLAPP motion and that ruling is affirmed."
Albert commented yesterday:
"I was pleased to read that my legal theory made sense to the court of appeal, albeit too late for me, on an unfair competition claim incorporating extortion against both Xcentric Ventures (RipOff Report) and I would argue Yelp. "In the interests of justice, though, no costs on appeal are awarded Xcentric, which, as we explain the companion Ragland appeal, is the lucky beneficiary of Albert's own failure to include an extortion cause of action in her complaint." The internet has become a powerful tool and one in which the legal profession has been unfairly targeted against."
Allegations on Facebook
Also respondents in Albert's appeal from the dismissal of her action pursuant to anti-SLAPP motions were three individuals—Pam Ragland, Karen Rozier and Maegan Nikolic—who had alleged, on Facebook, that Albert is, in essence, a "crook."
Addressing the first prong of the anti-SLAPP statute, Code of Civil Procedure §425.16, Bedsworth said it has been established that Facebook is a public forum and it is clear that there is public interest in Albert.
She has, he said, "made herself an object of public interest as a high-profile, publicity-worthy, anti-foreclosure, anti-bank litigator," adding:
"Albert might not be quite the second coming of William Jennings Bryan, but she has certainly established a public profile as an anti-bank lawyer whose crusading efforts are designed to benefit not only her clients but the public in general."
Albert remarked:
"If an appellate judge is going to tell you 'no,' the wordsmith, judge Bedsworth is one of the best at doing so. I surely do not see myself as a public figure, but if I were, I would agree I would never achieve the height of William Jennings Bryan but someday would be honored to achieve a fraction of what Gloria Allred has."
Statements Not Quoted
Finding that the first prong was satisfied, Bedsworth said the second prong—the plaintiff's inability to show a probability of prevailing—was also. He explained:
"Albert's opening brief does not contain a single exact quote of any the statements themselves. Rather all we have are Albert's paraphrases of what Albert says Ragland, Rozier or Nikolic supposedly said."
Bedsworth declared:
"Any valid argument Albert might have had in regard to the exact language, in context, used by Ragland, Rozier or Nikolic, is thus waived."
The appeal also includes Albert's protest to an attorney fee award to Yelp, the first of the 725 defendants to file an anti-SLAPP motion. The Court of Appeal last year upheld the granting of the motion in its favor, and Tuesday's opinion says that the subsequent award to Yelp by Glass of $30,000 was not excessive.
•In Albert v. Hannah, G053449, Bedsworth dealt with anti-SLAPP motions made by attorneys Mitchell B. Hannah, Devin R. Lucas, and David Seal. He announced:
"[W]e shall affirm almost all of the trial court's ruling on the anti-SLAPP motions filed by the three attorney defendants as well as the attorney fee orders made in favor of the other defendants. We shall reverse in regard to one group of comments allegedly made by defendant Seal alleging unchastity on Albert's part. Those alleged statements are not connected with litigation or a matter of 'public interest' involving Albert's ethics or competence as a high-profile anti-foreclosure anti-bank attorney."
Hannah was sued after his client, a contractor—or Hannah posing as the client—left a message on the cellphone of Albert's client, a homeowner, saying that that the reason she lost at trial was that Albert was incompetent and she should sue for malpractice. (On appeal, Albert won.)
Both Prongs Met
Bedsworth said:
"In the present case, Hannah's phone message to Albert's client directly referred to specific ongoing litigation, in essence making the argument that the recipient of the message should not pursue his appeal. Thus the phone message met prong one: it had some relation to judicial proceedings. And given that the litigation privilege encompasses all torts except malicious prosecution, the privilege subsumes Albert's claims for defamation, intentional interference, and intentional infliction….Hence prong two is also satisfied."
Lucas was also opposing Albert in a case. During a conversation in a parking lot, he became upset and shouted to her clients denigrating remarks about their attorney's abilities and ethics.
'Bad Attorney'
The first prong was met, Bedsworth said, because the remarks related to the litigation, adding:
"Prong two is satisfied insofar as Albert's claims against Lucas for defamation are concerned, because Lucas' remarks could not be proven false or were too vague, to be actionable….Calling Albert a bad attorney is just opinion…."
He acknowledged that liability can lie for inducing a client to fire a lawyer, but noted that the clients still employ Albert.
With respect to Seals, Bedsworth said that his "right of free speech to comment on an issue of public interest, namely Albert's competence to practice law" and his statements about her to the State Bar were protected, but his allegations of sexual promiscuity on her part, as well as bestiality, were not.
•The opinion in Albert v. Seal, G053172, deals with the denial of Albert's anti-SLAPP motion against Seal's cross complaint. Bedsworth said:
"We conclude all but one of Seal's defamation claims against Albert should have been stricken. All that survives is a single accusation that Albert falsely claimed Seal was a computer hacker and sent a message to Albert on Facebook to the effect that Seal could see all of Albert's posts. These claims do not involve an issue of public interest or comment on litigation-related matters that would qualify them for anti-SLAPP treatment."
The jurist continued:
"We also leave intact the trial court's determination that two causes of action for goods and services allegedly rendered by Seal to Albert (contract and promissory estoppel) were not subject to the anti-SLAPP motion. The rest of the anti-SLAPP order is reversed with directions to enter an order in favor of Albert."
'Sovereign Citizens' Allegation
Among the alleged falsehoods about him Seals attributes to Albert is that he is a member of the "sovereign citizens" movement comprised of persons who disavow being subject to state and federal laws. The author set forth in his opinion:
"Seal alleges Albert falsely claimed Seal was a sovereign citizen or—we deliberately use the old school phrase—a fellow traveler of sovereign citizens. As such, Albert's statement about Seal readily satisfies prong one of the anti-SLAPP statute for a comment under subdivision (e)(4) of the anti-SLAPP statute ['any other conduct in furtherance of the exercise of the constitutional right of petition or the constitutional right of free speech in connection with a public issue or an issue of public interest']). Accusing someone of being a communist, a fascist (or, as Albert correctly noted in her trial court anti-SLAPP motion) a member of the tea party, is part of the 'heat of the political kitchen.'…And just as inherently debatable.
"The accusation further satisfies prong two of the anti-SLAPP statute, since political characterizations are the classic example of non-falsifiable statements of opinions….It is one thing, to use an overwrought example, to accuse someone of having attended a rally of the Ku Klux Klan dressed in Klan garb on a certain date. That's an assertion that is falsifiable. The person was there or not there, in our out of garb. But an accusation that someone harbors some sort of Klan 'sympathies' is far too vague and debatable for falsification. The same applies to the even vaguer political appellation 'sovereign citizen.' The trial court should thus have granted Albert's motion as to the 'sovereign citizen' accusation."
Acting Like 'Kids'
In a footnote, Bedsworth observed:
"To be candid, the pleadings and record are full of extraneous information of the "I never knew that person, yes you did, no I didn't" variety. The case as a whole is too reminiscent of two kids on a playground suing each other for calling each other names. But these kids are lawyers, and appellant Albert has the statutory right to have the denial of her anti-SLAPP motion evaluated by an appellate court."
With respect to the appeals relating to the case before Glass, Albert said she is not "too displeased with the result… because at the end of the day" most of the defendants remain in the case and "[n]ot all claims were dismissed by the series of SLAPP motions and the defendants did not appeal those claims."
•In Albert v. Reed Smith LLP, an anti-SLAPP motion granted by Orange Superior Court Judge Craig L. Griffin is affirmed.
Albert sued the law firm that opposed her client in a matter, alleging that it went behind her back and arranged a settlement, thus depriving her of fees.
Bedsworth said that the first prong is met because the matter relates to litigation and the second prong is met because Albert's own declaration does not refute that of her former client who categorically denied any communication with Reed Smith.
Suit Against Rival
On March 2, Albert brought suit against Orange County Supervisor Todd Spitzer on behalf of the defendant's former aide who alleging that he defamed her in the course of a previous action against him.
Spitzer said in a statement:
"This lawsuit is a political stunt by an attorney who is a candidate against me for District Attorney."
Ran for Assembly
Albert ran for an Assembly seat in 2016 as a Democrat. A biography she provided to the League of Women Voters' "Voter's Edge California" website begins:
"When Wall Street was rapidly displacing an entire socioeconomic class five years ago, Lenore Albert blocked 1,000 foreclosure sales in 2011. After it came to light that the California State Bar spent millions of dollars purchasing a new building in Los Angeles in 2012 with members funds she fought for justice and risked her own license when she discovered the State Bar had been acting as a debt collector against other attorneys to generate income.
"As a small business owner and consumer attorney for 15 years, Lenore Albert fought for equal access to the courts to protect the rights of individuals and small businesses while caring for her disabled mother (now deceased) and standing up to corruption that risked her license. Previously, she was a financial analyst/economic forecaster."
Pitted against Republican incumbent Travis Allen in the November run-off, she received 42 percent of the vote.
State Bar Proceedings
Albert has tied State Bar charges against her to her candidacy for the Assembly.
In a Dec. 19, 2016 amended answer to the State Bar charges, Alpert said that "Ms. Albert has never been the subject of public disciplinary charges before the State Bar illegally trumped up charges against Ms. Albert." She asserted that State Bar prosecutor "Sherell McFarlane and/or the State Bar concocted a scheme" under which disciplinary charges were filed "in order to try to dissuade others from voting for Ms. Albert in the election in November 2016."
Albert insisted the State Bar was retaliating against her for suing it in 2015.
A hearing judge recommended that Albert be actually suspended for 30 days, or until such time beyond that that she abides by four orders to pay sanctions.
A June 30, 2017 opinion of the State Bar Court Review Department says:
"[W]e agree with the recommended discipline given Albert's misconduct, her indifference, and the applicable disciplinary standard providing that an actual suspension is the minimum presumed sanction for willfully disobeying a court order."
The California Supreme Court will decide whether to impose the recommended discipline.
New charges were filed March 6, 2017, in connection with a patent infringement case accusing Albert of failing to perform, with competence, failing to render accounts of trust funds, failing to refund unearned fees, and failure to cooperate in a State Bar investigation.
In an April 26 answer, Albert termed the charges "bogus."
A status conference is slated for March 26.
Source: Metropolitan News-Enterprise
RipOffReport.com - Xcentric Ventures
Huntington Beach attorney Lenore Albert
California
1