Controversial Judge Duebbert has dodge yet another attack. It really is hard to ascertain if Judge Duebbert is a really bad judge or just has lots of enemies because he has lots of enemies from serving on the bench.
Illinois: Felony charges against St. Clair County judge Ronald Duebbert dropped by Prosecutors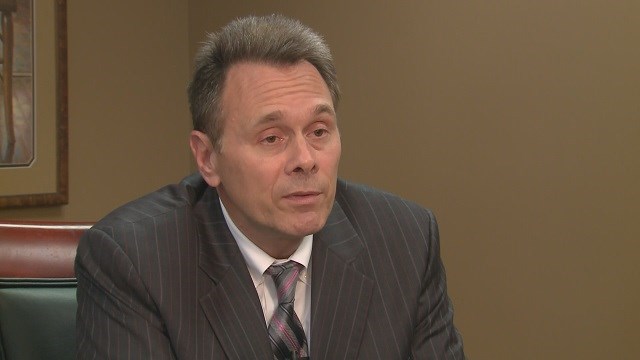 Judge Ronald Duebbert
ST. CLAIR COUNTY, Ill. (KMOV.com) -
A pending criminal case against St. Clair County Circuit Judge Ronald Duebbert is over.
Duebbert was charged with sexual abuse and intimidation after a former client accused Duebbert of unwanted sexual contact.
On Thursday, the Illinois State's Attorney Appellate Prosecutors office filed a motion to dismiss the criminal charges. Marion County Judge Michael McHaney accepted the state's motion Friday and said, "motion is granted, this case is over."
According to Duebbert's attorney, the case against his client had "political" motivations. Scott Rosenblum said the accuser was "nothing more than a pawn of the people who had political motives to prosecute Judge Duebbert."
Recently published reports revealed the accuser may have "embellished" some details.
According to the prosecution, the case was dismissed at the accuser's request.
Special Prosecutor Lorinda Lamken said if the case went to trial the accuser "would have come in and [tell] the truth, and he would have said what he did in his original statement."
Lamken added the accuser "has requested it be dismissed because at this time it's too much for him."
Duebbert was elected in 2016.
In early 2017, St. Clair County Presiding Judge Andrew Gleeson placed Duebbert on administrative duties, which prohibited Duebbert from hearing cases.
Gleeson said today's decision does not change Duebbert's status saying "those criminal charges were not the premise of him being placed on administrative duties in the first place."
At the time Duebbert was placed on administrative duty. He was under investigation for obstruction of justice after his former roommate David Fields was accused of murdering a man named Carl Silas.
The Illinois Judicial Inquiry board filed a formal complaint against Duebbert in April 2018.
The complaint accused Duebbert of providing false and misleading statements to police and false and misleading testimony before the judicial inquiry board.
The case is still pending.
"Those allegations bring into serious question Duebbert's fitness and integrity and whether he should sit on the bench," Gleeson said.
Gleeson said Duebbert will remain on administrative duties until the case is resolved, but said Duebbert can appeal for reinstatement to the Illinois Supreme Court.
In May of 2017, Duebbert told News 4 he had no plans to resign and vowed to fight for the job he was elected to do.
Source: KMOV.com
Judge Ronald Duebbert
Illinois State's Attorney Appellate Prosecutors office
Illinois
1